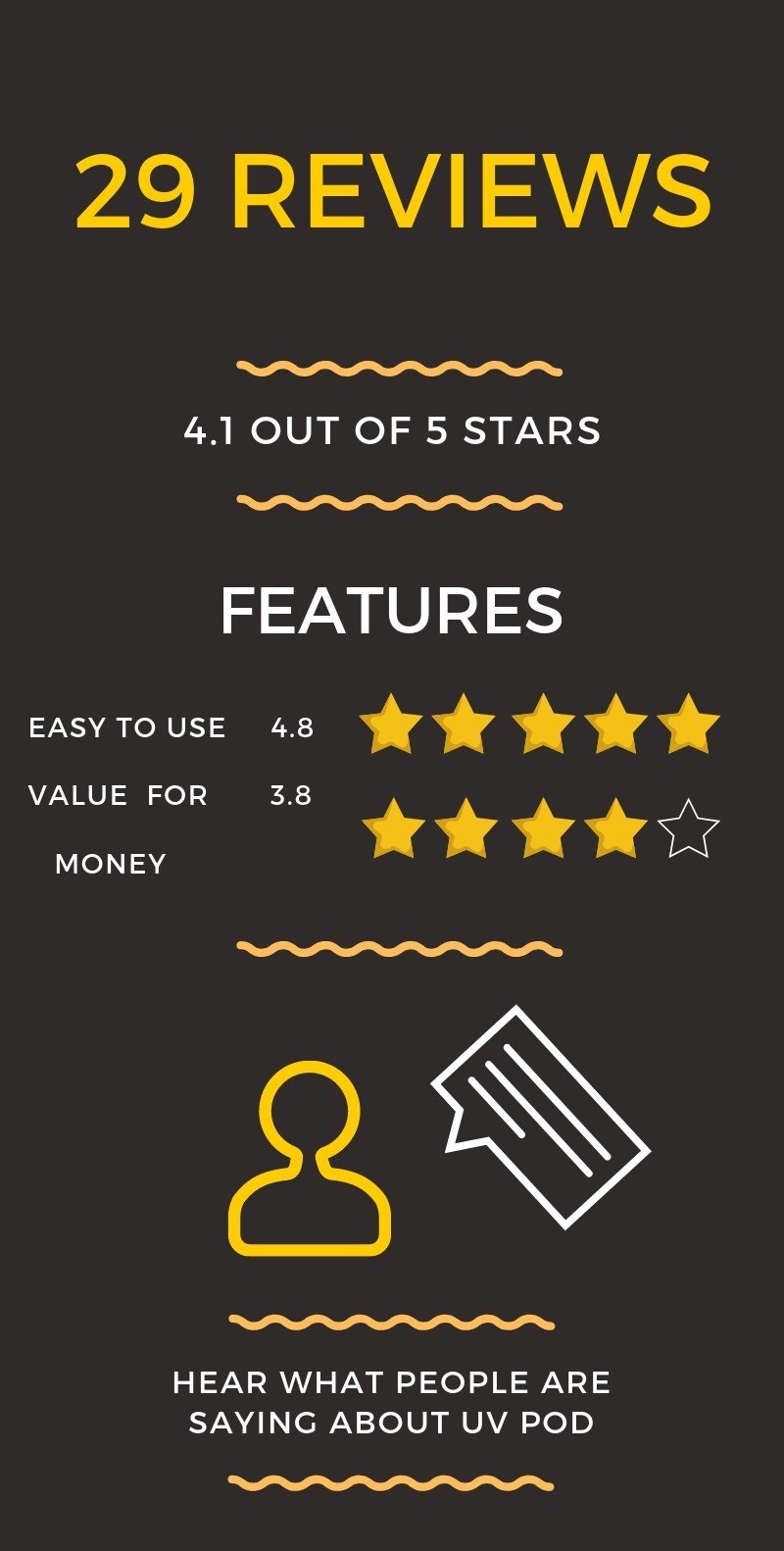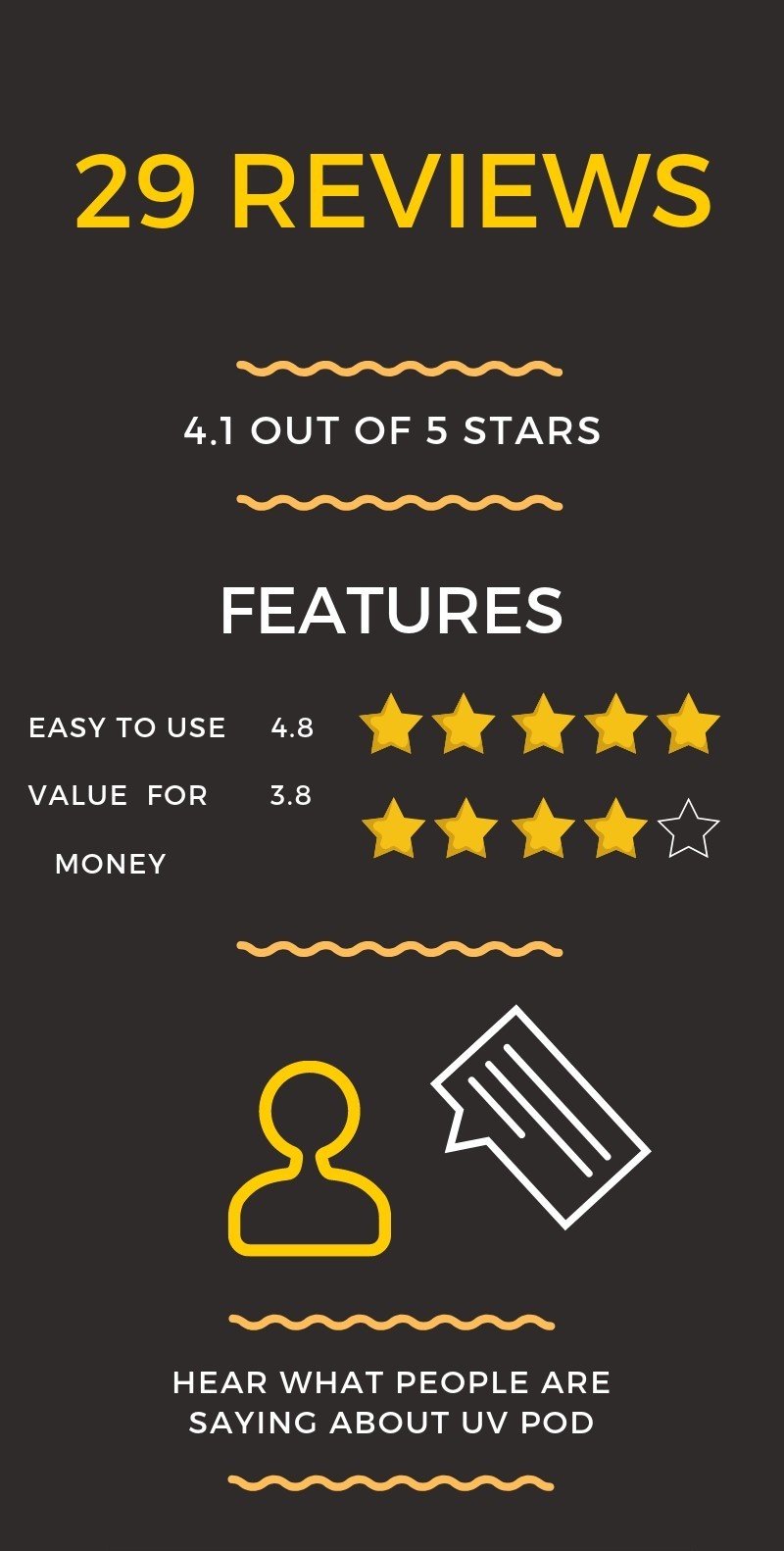 R Souza | October 26, 2018
It was delivered in less than half the time and in perfect conditions. I love the design and the size is just perfect. Fits pretty much everything that I need clean: toothbrushes, make up accessories, cutlery, my stainless steel straw, my baby's pacifiers and bottle nipples. But it's also compact and perfect for travelling too. I've always been a bit germaphobe and used to boil everything. But now I just use the uv-pod and it's all clean in a few minutes. Overall I'm really happy with it.


Krin | January 20, 2019
This product is great! It's much smaller than I expected which is great! I'm an adult that enjoys adult toys. I also enjoy cleanliness and sterilizing my toys. I've been thinking of ways I could have a unit and also put a lock on it to keep it private. So the small size allows me to store it inside my night stand drawer which has a lock on it and I drilled a small hole through the back to run the power cord. Simple to use, easy to clean, and worth the price. Shipping was also on time. Works for what I needed it for. Thanks!


Wes & Denise Sakai | January 24, 2019
So far so good with this UV sterilizer. I use this for my waxing implements and my cutting scissors. Doesn't take up too much space and I like the fact that it does indicate when sterilizing is done! Would highly recommend if you're short on counter space @ the salon as I am.


Richard G. | February 28, 2019
Easy to use. Has a timer built into the top of the lid to give you a good idea of how long is left. Only takes 3-minutes per cycle. Talks to you when it starts and when it's finished. Inside bottom is polished to a mirror finish.


Bauxnae | January 22, 2019
This sterilizer is amazing. I bought it for my cousin who's a mobile nail tech and she never leaves the house without it now. She loves how quick it sterilizer her nail implements and how they are all able to fit inside, as not all of them are the same size.


Jacequeline Mitchell | April 26, 2019
I received my first LED Sterilizer Box and it didn't work. I reached out to the email address provided and got a response within minutes. Talk about customer service! A Rep, Rhea, asked for me to send over image/video that it was defective and within minutes again I had a tracking number for a new sterilizer. I received my new sterilizer in the same week I received the defective one without sending it back. Now let's talk about the product, its amazing! I love how it talks to you, it added a plus for my clients to hear when tools are sterilizing and when sterilization is complete!


Sharon | March 4, 2019
Received my led UV sterilizer box .Read the instructions I was like oh it's going to be difficult shot light long light,but it turned out easy like the voice that lets me know it sanitizing. Good product Thanks!


Daphne Stewart | February 6, 2019
Love this product. I have a portable nail business and this is so convenient to keep my implements sterile on the go.